Authorities said Border Patrol agents caught an alleged smuggler with approximately 60 migrants crammed into the back of a Penske truck.
The Texas Department of Public Safety arrested immigrants who were loaded into the back of a rickety rental truck on the West Side of El Paso on Wednesday, the Texas DPS announced.
The driver, identified as Marquis Oville, an illegal immigrant from Mexico, has been arrested and faces federal human trafficking charges, according to the Texas DPS.
Texas police troopers out on patrol in Austin amid a police personnel crisis in the city of Austin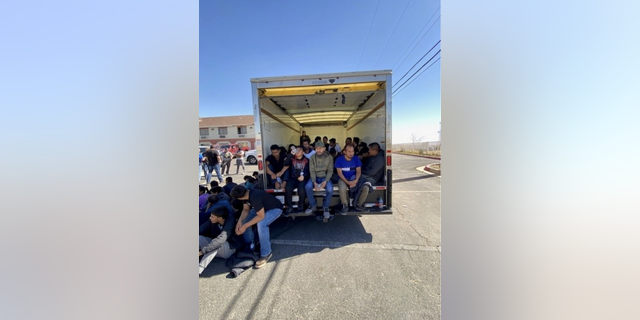 Law enforcement authorities referred 58 migrants, including 49 men and 9 women, from Mexico, El Salvador and Guatemala, to Border Patrol.
There have been several other interceptions at the border, including an alleged incident of child smuggling and 36 illegal immigrants dressed in camouflage while hiding in a cave, according to authorities.
Texas police troopers out on patrol in Austin amid a police personnel crisis in the city of Austin
During a traffic stop in Kinney County, Texas, a trooper found four illegal immigrants in their car, including girls ages 14 to 16, according to Texas DPS, which released a minute-long Bodycam video on Twitter.
"There are two kids in the back," a law enforcement officer is heard to say in Bodycam video after the rear seat doors open.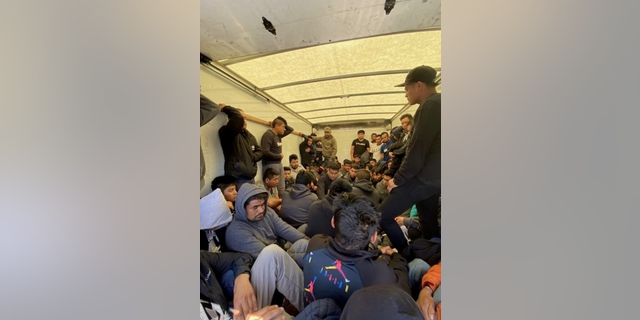 Another person was found in a Jeep Grand Cherokee truck.
About halfway through the video, the officer tells a woman she is under arrest for people smuggling and ties handcuffs around her wrist.
A huge group of 1,000 illegal immigrants strikes the southern border, at the end of Heading 42 soon
"You're arresting the wrong people," one of the suspects told the officers.
The officer replied: Who should be arrested?
"Gangs. They kill people, they traffic in sex, everything sucks," said the suspect, who was only identified as a San Antonio resident.
"These people are the same people that sent you here," the officer was heard telling the suspect.
Texas DPS Air Ops also located dozens of camouflaged illegal immigrants hiding inside a cave in Culberson County, south of Van Horn on the Big Bend Strip.
Footage released by the Texas DPS shows an agent pointing out where the migrants were hiding. Migrants blend in with the surrounding rocks and only appear when an agent approaches.
Click here for the FOX NEWS app
Cases have continued to decline on a daily basis since Texas Gov. Greg Abbott launched Operation Lone Star in March 2021 in response to rising illegal immigration.
In May 20221, it issued a disaster declaration covering 48 counties, most of which are along or near the border, directing DPS to "use available resources to enforce all applicable federal and state laws to prevent criminal activity along the border, including criminal trespassing, smuggling, and human trafficking." …."