Adam Sandler and Jennifer Aniston have a special friendship, going back all the way to before either one of them was ever seen on-screen.
The two met in a Los Angeles deli when they were teenagers, and Aniston was dating one of Sandler's friends. They hit it off instantly while sharing a meal at Jerry's Deli, and the rest is history. Sandler was particularly entranced by the way Aniston was eating her pickle. 
"She crunched too loud," Sandler once told E! News. "I knew I was going to be friends with her. I didn't know I was going to be making movies with her. We both didn't know that, we were young, and we didn't have jobs quite then."
It was love at first sight for Aniston as well, with the actress telling the outlet: "He takes you in, and I'm very much the same way," saying once you're in, "you become family. It's like second nature."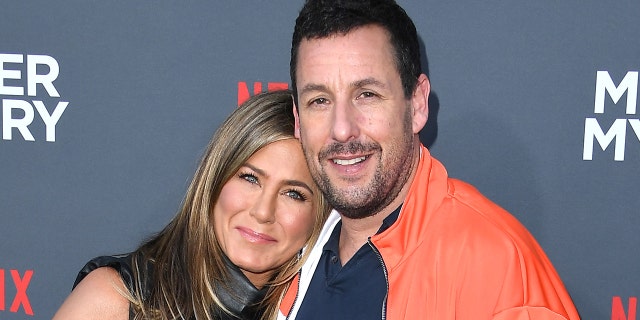 JENNIFER ANISTON SHARES 2022 HIGHLIGHTS FEATURING PAL ADAM SANDLER, CHEEKY BIKINI SNAPS AND MORE
Through hard work, the two friends both made it big in Hollywood, with Aniston finding fame as Rachel Green in "Friends," and Sandler as a cast member on "Saturday Night Live." Both went on to star in a number of comedies, with Sandler starting his own production company, pumping out hit after hit.
Some of Sandler's most popular movies include, "Billy Madison," "Happy Gilmore," "The Wedding Singer," "50 First Dates" and "Grown Ups." Aniston has starred in "Along Came Polly," "He's Just Not That Into You," "The Bounty Hunter," "Horrible Bosses" and "Cake." 
While the two have been close friends for many years, they never crossed the line beyond friendship and into a romantic relationship. Sandler married Jacqueline "Jackie" Sandler in 2003 and the couple have two children, Sadie, 16, and Sunny, 14. Aniston famously married Brad Pitt in 2000, however the marriage ended in divorce in 2005. Aniston went on to tie the knot with Justin Theroux in 2015. The couple called it quits three years later. 
Aniston and Sandler's friendship inevitably led to the two uniting on camera for the 2011 comedy "Just Go With It," in which Sandler plays a womanizing plastic surgeon and Aniston plays his assistant. In the end, their characters fall in love and live happily ever after.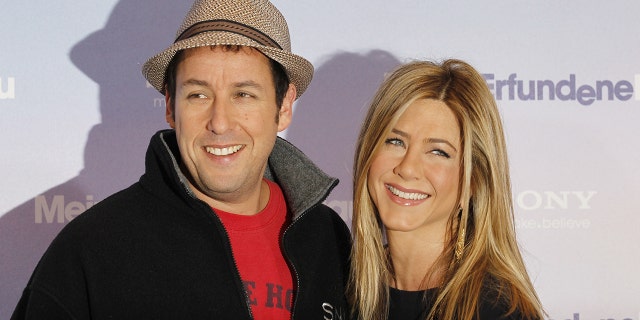 The movie was filmed in Hawaii, which gave Sandler and Aniston a lot of time to bond once the cameras were down, and they had wrapped for the day. Aniston recalled going out to dinner together, hanging out in what they called "the Magic Corner" and spending time by the pool on the weekends, with Sandler clarifying they spent time in separate pools.
"Little Miss Adult Pool, I couldn't bring my kids up there," Sandler explained to ScreenSlam at the time. "I would be right about to go in, and then they'd grab me, and they'd say 'you're not welcome at this pool with your children,' and she would hold up this extra, she had makeup give her this extra long middle finger. It was pretty rough," Sandler joked.  
Sandler and Aniston don't need to be cast in a movie together to hang out, as the actress said she often hosts pizza night at her house. Whether Sandler enjoys himself when at her house is a different story.
"We go to Aniston's house a lot. She makes pizzas, gives us M&Ms, and she has a lot of nice TVs. I hide in one of the rooms. She hangs out with my wife and all her other friends. I tend to hide at Aniston's house," Sandler said before admitting he does "have some fun." "My favorite image is when a good song comes on and across the room, I see Aniston hear a good song and start dancing. She's a great dancer."
JENNIFER ANISTON SHARES 2022 HIGHLIGHTS FEATURING PAL ADAM SANDLER, CHEEKY BIKINI SNAPS AND MORE
Shortly after "Just Go With It" was released, Aniston was honored with a star on the Hollywood Walk of Fame. Many friends were there to celebrate her achievement during the February 2012 ceremony, including Malin Ackerman, Kathryn Hahn and Sandler.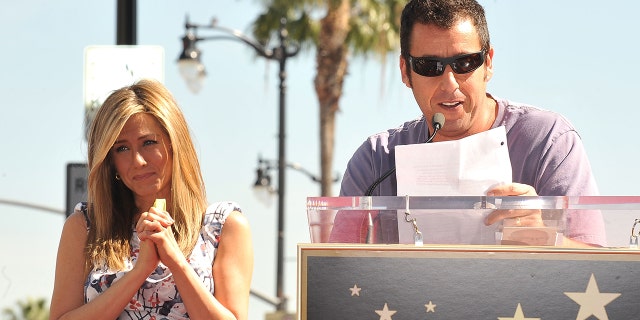 In his speech, Sandler spoke about how much he loves Aniston, admiring her body of work and even made fun of his clothing style, something Aniston teases him about. He joked she would pray as a child "to have everyone in the entire world be fascinated by her haircut, to one day star in a movie about an evil leprechaun who kills people" and to get a star on the Walk of Fame.
"It hasn't been an easy road for that poor little rollie pollie Greek girl. She endured many professional disappointments before landing the part of Rachel Green in a show called 'Friends' at the age of 52," Sandler joked. "But by the time that show ended, she had obtained five special real life friends, a permanent place in America's heart and what we in the business refer to as 'Seinfeld money.'
"But did that little Greek girl go and buy herself an island somewhere and forget us fans? She did not! She made movies, hit after hit, comedies, dramadies, movies with Vince Vaughn, and we loved them all," Sandler continued. "I love this girl, my wife loves this girl, the entire world loves this girl… the girl who put the grace in 'Office Space,' put the jolly in 'Along Came Polly,' put the 'hor' in 'Horrible Bosses,' put the good girl in 'The Good Girl' and took her naked boobs out of 'Wanderlust.' For God's sake, let the girl have one thing she can keep to herself, you greedy bastards out there."
The two partnered up for a second time in the 2019 Netflix comedy, "Murder Mystery," in which they play a husband and wife who take a European vacation in an effort to spice up their marriage. After meeting a wealthy man on the plane, they find themselves on his yacht and as prime suspects in a murder investigation.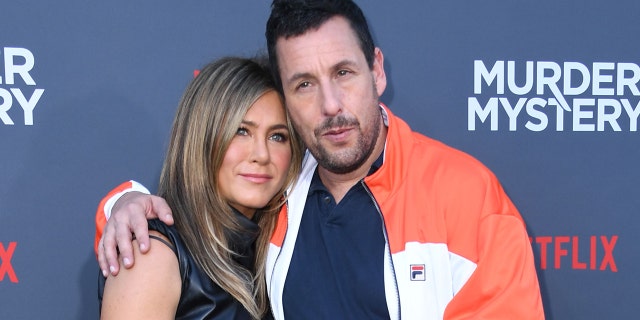 While promoting the movie, both Sandler and Aniston appeared as guests on "The Ellen DeGeneres Show," where they spoke about what it was like filming in Italy. Sandler spoke about going to George Clooney's home on Lake Como for a pizza party, saying "every time we're with Jennifer, something great happens" and that he thinks his wife wishes she was married to Aniston because he doesn't really like to leave the house.
"I should do it more, and Aniston will say to me in the middle of the night whenever I'm with her, something cool, she'll be like, 'you see?' and I'll be like 'no you're right, this is great,'" Sandler explained. "The next morning she'll text and say, 'I know something Wednesday night, if you want,' and I'll be like 'we just did that Saturday thing, we don't have to do two.'" 
Aniston looked back on the pizza party with Clooney fondly as well, and couldn't help but poke fun at Sandler's outfit choice for the party.
"Adam doesn't have, really, a great wardrobe. But he didn't care, that's his thing," Aniston told Ellen. "Jackie, his beautiful wife, always dresses gorgeous… and the way he dressed [a pair of basketball] shorts up was he had a kind of turquoise velour Izod shirt."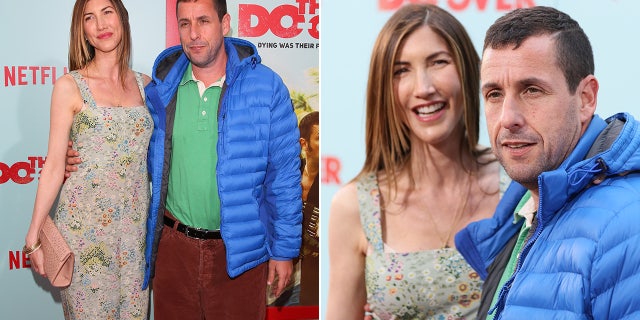 She joked that the "Uncut Gems" star and his wife's difference in style doesn't seem to be an issue, saying "it works." "I was at their wedding, and they never stopped being madly in love with each other. It just goes to show you don't judge a book by its cover," Aniston shared. 
JENNIFER ANISTON SEEMINGLY JABS SAG AWARDS FOR SNUBBING ADAM SANDLER AND 'UNCUT GEMS'
After the success of "Murder Mystery," Netflix quickly announced a sequel was in the works and fans would soon be able to see the duo back as Nick and Audrey Spitz. This time around, the two have started their own private investigation firm and are thrown into an international case when their friend goes missing.
Filming on the sequel started in January 2022 in Oahu, Hawaii, and ended in April 2022 in Paris, France. Aniston posted a behind-the-scenes photo of her and Sandler on set in Hawaii, writing, "Back to work with my buddy. #MurderMystery2," along with a video showing them having fun on set. 
Aniston recently helped honor Sandler when he received the Kennedy Center Mark Twain Prize for American Humor, pairing up with Drew Barrymore, another one of Sandler's leading ladies, to perform a skit. 
During the skit, they shared some memories they both have shared with Sandler over the years, both on set of their films and in their personal lives. They also poked fun at the debate of who Sandler's ultimate on-screen love interest is, Barrymore or Aniston. Aniston tells Barrymore they should make a movie together, to which Barrymore replies, "You mean the one where we don't need that goofy boyfriend?"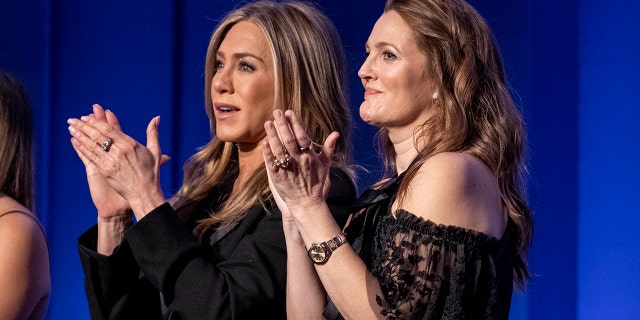 "We thought we'd be funny, 'cause there was a Twitter thing a couple years ago, and they're always sort of comparing us, who's the better movie wife or movie love, so we just thought we'd do a little bit on that," Aniston said on "Good Morning America" on March 21.
"We want to do [a movie with] all three of us together and just put an end to this competition," Aniston also shared.
Following the Mark Twain Prize ceremony, Sandler and Aniston appeared on "The Drew Barrymore" show and the three of them discussed potentially getting together for a "Three's Company" type movie. "That would be fun man, that would be incredible," Sandler shared when he heard the idea, with Aniston adding it wouldn't be a direct remake, but something "in the spirit of" the show. 
"That's a big idea, I love that idea," Sandler said, to which Barrymore replied, "We'll workshop that."
The two have recently been promoting the Netflix sequel, appearing on the British show, "This Morning." While discussing a stunt that was performed on top of the Eiffel Tower, Aniston accidently swore, not knowing the segment was airing live. 
ADAM SANDLER ON PLAYING 'LOSER' ROLES: 'IT'S IN ME'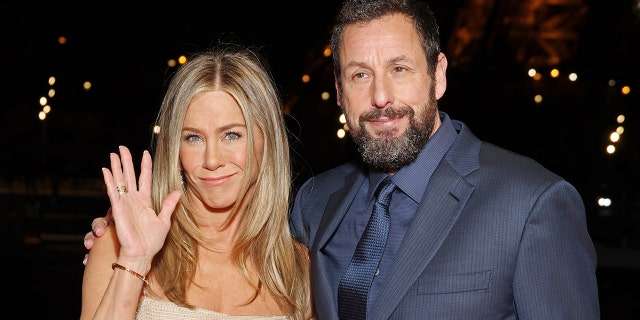 "Jennifer was scared to fall off the Eiffel Tower. They called 'action' and she didn't jump, and I just snuck up and pushed her. It was fun to see that reaction," Sandler said. Host Phillip Schofield chimed in, saying he couldn't imagine what it would be like to pretend to be thrown off the Eiffel Tower, to which Aniston replied they did it "Just for s—- and giggles."
Once again, the duo spoke about their long history together, with Sandler saying he wishes he had "a cooler story that she was choking and (he) saved her," but that in reality, they met over breakfast when she was eating eggs with cheese, and he was eating French toast. 
Since the two have known each other for over 30 years and have worked together before, they feel very comfortable with each other on-set and know how the other works.
"Jennifer knows that I have probably a good hour a day where I'm in a nice mood, and she's like 'Shoot him now!' and then she's like, 'Let's get him out of here and let me do my thing,'" he explained. "That's the beauty of my bad moods, they're literally about one minute long."
"They're just a minute, and then they're gone," Aniston added. "We all take a moment of silence for Adam's rage, and then we go back to work."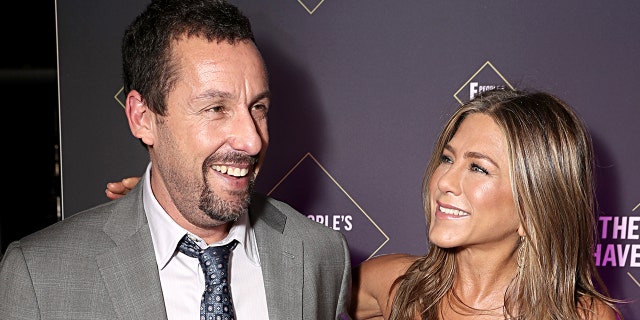 When they're not on-set, the two also take advantage of their exotic filming locations like walking through the streets of Paris.
CLICK HERE TO SIGN UP FOR THE ENTERTAINMENT NEWSLETTER
"We had some very nice moments. Jennifer and I went to a dinner one night with all our friends, and we walked back from this beautiful restaurant to the hotel. It took an hour walk, it was lovely, it was raining, it was just the way you would dream about it," Sandler said, with Aniston adding, "It was right out of a movie." 
Aniston has shared that Sandler gives her advice as well, even sometimes critiquing her choice in men.
"If I get anything from him, it's, 'What are you doing?!' usually based on someone I'm dating," Aniston told Jimmy Kimmel on March 21, before imitating Sandler yelling, "'What are you doing?! What's wrong with you?!'"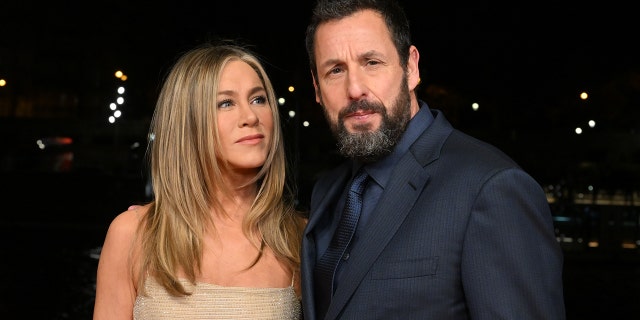 Sandler and Aniston walked the red carpet hand in hand at the Los Angeles premiere of the Netflix movie on Tuesday, where Aniston stunned in a gray hand-beaded dress. Her co-star on the other hand was dressed much more casual, opting to wear a grey Knicks hoodie, khaki pants and sneakers.
Aniston couldn't help but poke fun at his style, yelling "what the hell are you doing," and telling Entertainment Tonight, "I'm not standing next to him. Sweatpants," when getting ready for an interview.
"You said it, you texted me, 'Please wear your sweatshirt,'" Sandler quipped, to which Aniston shot back, "I said, 'Please don't wear your sweatshirt."  
"Murder Mystery 2" dropped on Netflix on Friday, March 31.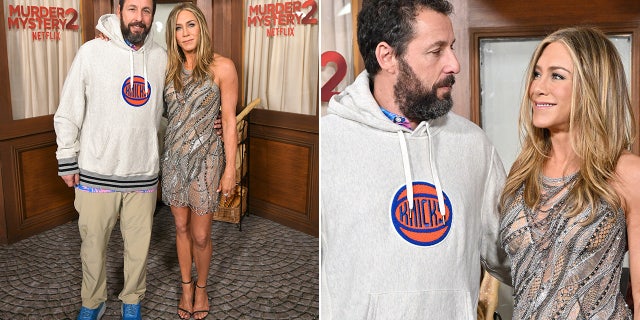 CLICK HERE TO GET THE FOX NEWS APP