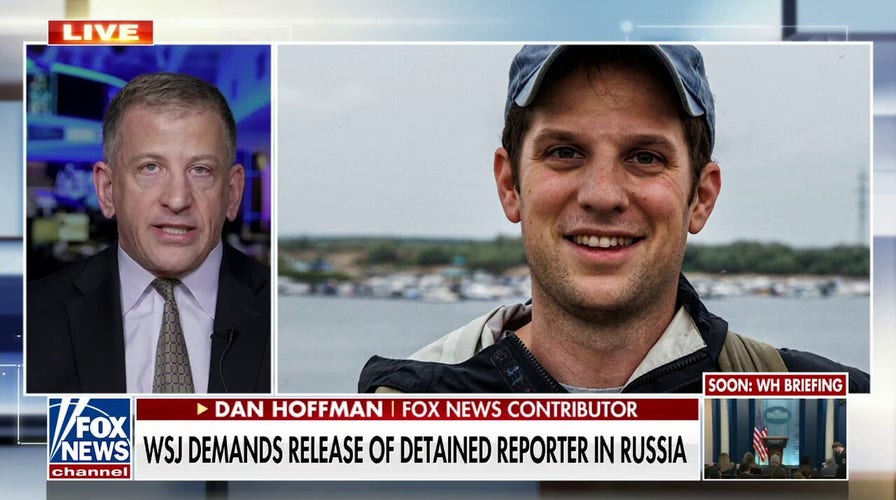 Former CIA station chief Dan Hoffman explains Russia's possible reasons for arresting a Wall Street Journal reporter Ivan Gershkovich. The Fox News contributor told America Reports that Russia wants to silence the press, inflame "anti-Western" sentiment in Russia and detain Gershkovitch for trade.
The Wall Street Journal defends the reporter after he was detained by Russia on suspicion of espionage
Dan Hoffman: Vladimir Putin does not like a free press. This is the first reason for Ivan's detention, because Russia really sought to ensure that there was no such thing as freedom of the press in their country. And there is no permissible discussion of Putin's war on Ukraine among the general public. Thus, Evan is considered a threat.
But the second reason I believe they have him is because Putin wants to ignite this anti-Western hysteria in which the enemy is not only spying on Russia but inside it. I believe, as I mentioned earlier, that this is the first time that an American journalist has been arrested since the Cold War. That's a big deal. but Russian President Vladimir Putin He is a KGB agent. It's kind of a throwback time for us. The third thing — I think this is a bit longer — is that Russia would like to do trade.
One of their deep underground intelligence officers, Sergei Cherkasov, was recently arrested in Brazil. He was using a fake ID. He had gone to school at the Johns Hopkins School of Advanced International Studies here in Washington, D.C., and was on his way to the International Criminal Court in The Hague when he was arrested in Brazil. The Department of Justice, our Department of Justice, has charged him. He was sentenced to 15 years in prison in Brazil. There is certainly some question as to whether he will be transferred to the United States for criminal proceedings here. So, I think Putin is thinking about all of these things.
Russia's arrest of a Wall Street reporter on espionage charges sparks invasion: 'Unfair arrest'
the Russian arrest Mr. Gershkovitch has drawn outrage from all sides of the journalism industry and the political spectrum.
Gershkovich, an American citizen, has been accused of spying for the United States government. The Russian state news agency TASS reported that he had been ordered to be detained until May 29.
The Russian government's Federal Security Service claimed to have arrested the journalist while he was "attempting to obtain classified information" about the activities of an "enterprise of the Russian military-industrial complex".
The National Press Club called for Gershkovitch's immediate release.
"We consider this detention to be unfair and call on the State Department to determine his arrest in this manner at once," said National Press Club President Eileen O'Reilly in a joint statement with National Press Club Press Institute President Jill Klein.
"Gershkovic is a journalist. He must be released immediately and unharmed and allowed to return to his important work," the National Press Club continued. "Evan has had an important and distinguished career working for the New York Times and the AFP before the Wall Street Journal."
Click here for the FOX NEWS app
FCC Commissioner Brendan Carr tweeted, "This is wrong. This is troubling. Gershkovich's courageous journalism is not a crime," and provided a link to a report Gershkovich penned hours earlier. the address of his arrest"The Russian economy has begun to decline."
Fox News' Brian Flood, Christine Parks, Luis Casiano and The Associated Press contributed to this report.