newYou can now listen to Fox News articles!
On March 17, the International Criminal Court issued an arrest warrant for Mr Russian President Vladimir Putin of war crimes, including his involvement in child abduction. Previously, a UN investigation found evidence that Russia committed a wide range of war crimes, including the deportation of children and the use of "systematic and widespread" torture. All wars involve victims, but wars should not involve crimes.
Russia's war in Ukraine It led to tens of thousands of deaths and injuries, as well as the displacement of at least 14 million people. In addition, the Russian army has caused untold suffering, specifically among Christians and religious minorities in Ukraine, as it has done its best to systematically target Christians and destroy houses of worship. Putin and Russia must be held accountable for their crimes – particularly those committed on the basis of religion.
Human rights experts say Russian soldiers have targeted priests and churches when invading regions in eastern Ukraine. The Russian army has it Disproportionately sought evangelical Christians, Destruction, damage and looting of nearly 500 religious and sacred buildings. The Institute for Religious Freedom (IRF) has documented numerous cases in which Russia has seized religious buildings and used them as military outposts to hide shooting locations.
Russia's Medvedev says any attempt to arrest Putin after the ICC guarantee would be a "declaration of war"
As if these atrocities were not enough, Russia has killed at least 26 religious leaders and tortured and imprisoned many more. Russian soldiers called Ukrainian Christians "American spies" and "enemies of the Russian Orthodox people".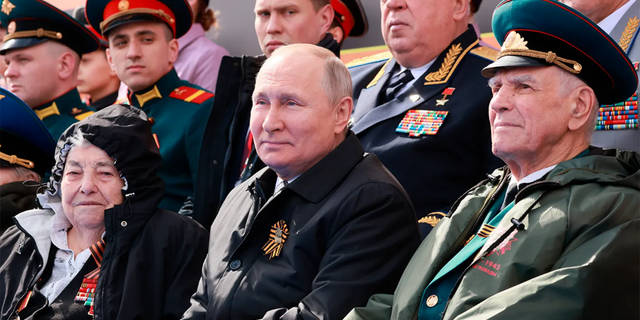 In just a five-month period in 2022, the IRF has recorded 20 cases of unlawful imprisonment of Ukrainian religious leaders, accompanied by attempted rape, mock executions, deprivation of food and water, and threats of violence against family members. Last year, Russia jailed four church members for illegal meetings and carried out raids among a series of Pentecostal churches.
Click here for the Opinion newsletter
It's all unfortunate, but it's also ridiculous. While Russia praises itself as "pro-Christian," its behavior belies its propaganda claims.
Most Christians in Russia belong to the Russian Orthodox Church, which considers the separate Orthodox Church in Ukraine illegitimate and whose members are apostates. This misclassification helps lay the foundation for the argument for the mistreatment, abuse, and persecution of evangelicals and other non-Russian Orthodox believers in Ukraine.
If history is the teaching, then the Russian Orthodox Church should know better than to remain silent. During the Cold War, the Soviets attempted to suppress religious organizations and the Orthodox Church bore the brunt of the persecution. Its properties were nationalized and many of its schools were closed. More than 50,000 bishops, priests, and other clergy were massacred or imprisoned. How can the leaders and members of the Russian Orthodox Church turn a blind eye when their own government commits similar atrocities?
Nor are our allies safe from being called out in possible cases of persecution. Zelensky's government in Ukraine is trying to expel Orthodox monks from an 11th-century monastery because of its links to Russia. The monks claim to have broken with the Russian Orthodox Church and deny any links to the government in Moscow.
Click here for the FOX NEWS app
As with any war, the international community must hold bad actors accountable for atrocities. The United Nations is examining the many human rights violations Russia has been accused of and has compiled a list of people who will be held accountable for it. The US State Department has designated Russia as a CPC for its involvement in ongoing, systematic violations of religious freedom, which allows us to impose targeted sanctions on government officials and agencies.
While bringing attention to war crimes is a positive step toward accountability, talk is cheap and must be accompanied by action. It is our calling as Christians to seek justice and to defend the oppressed, Christians and non-Christians alike. Russia and Putin must be prosecuted for their crimes so that others are deterred from similar barbaric behavior in the future.
Click here to read more by David Carey